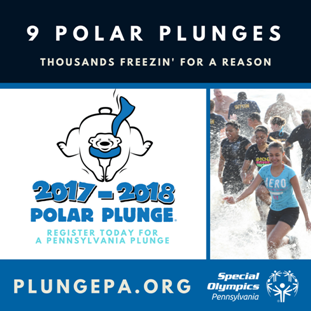 It's about that time again...time to start 'Freezin' for a Reason'!
The Special Olympics Pennsylvania Pittsburgh Polar Plunge is scheduled for Saturday, February 24, 2018 at Heinz Field.
Think you're ready to accept the challenge and support a great cause all at once? If so, here's your chance to show off your Pittsburgh Pride and earn a real "badge" of honor by jumping into the icy Ohio River on a brisk February morning in Pittsburgh to support nearly 20,000 athletes at Special Olympics Pennsylvania.
This year, YOU have your choice, jump in the icy river or the cool pools!
Not quite ready to "take the plunge," join us at the Plunge Festival at Heinz Field for food, warm beverages, games, kids activities and more! There will be something for everyone, so bring the whole family.
Think you have what it takes? Then brrrrrrrring it on! For more information or to register go to www.PittsburghPlunge.org
#PghPolarPlunge